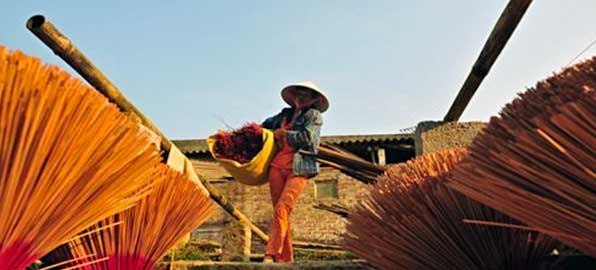 KFL is a long established, experienced and professional exporter and manufacturer of aroma products. Our mission is to provide clients with superior quality aroma products. KFL is an incense specialist and operates under multiple brand names. Apart from incense, we have developed a wide range of products including aroma candle, scented gypsum, diffuser, fragrance oil, burner plate, lantern, pot pourii as well as premium gift set.
Our company was founded in 1966 in Hong Kong with only a few employees. Within decades, KFL has successfully evolved into a major aroma product supplier in the region. With increasing demand for our products, KFL has developed three production facilities in China with over 400 skilful technicians. All our products are made from traditionally-derived formulae with the aid of modern technologies.
Incense is KFL's flagship product category. We manufacture incense products in various forms. This includes sticks, cones, spirals, coils as well as specially-designed shapes. We also offer a wide range of colours and scents for you to choose from. Our products are made from natural ingredients, which release favourable smell during burning.
KFL has developed an extensive global sales network. Our products are exported to North America, Europe, Australia, South East Asia as well as the rest of the world. We have been incredibly successful in the past yet our ambition does not stop here. We provide professional opinion to international clients and help them developing their products. Client's own designs, OEM and CMT are particularly welcomed. We guarantee to provide quality products, efficient services and competitive prices.
If you have any queries, please feel free to contact us for further details.